Directions for Snapping Receipts
To start snapping your receipts, open your Fetch app and tap on the orange circle at the bottom of your screen. When you tap it, a blue circle and an orange circle will appear. To snap pictures of your physical, paper receipts, tap the orange 'Snap' button and your device's camera will open up.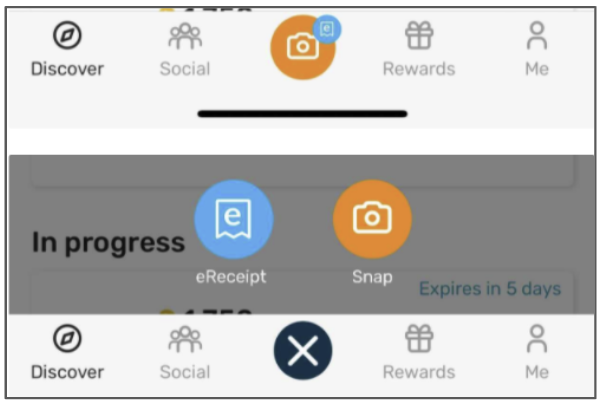 The blue 'eReceipt' button you see is used for scanning eReceipts. For more information on this, please refer to this article: Connecting Your Email and Amazon Accounts
Receipt Snapping Tips
Follow these tips carefully to ensure you are getting the best scan possible of your receipt:
The receipt is by itself and lying flat on a solid, dark, and non-reflective surface

The receipt is not stained, smudged, nor crinkled, and no objects or fingers cover the receipt

Image is taken in a well-lit area so no shadows cover or block any part of the receipt

Receipt edges are lined up with the guidelines shown on your screen

Make sure to snap the receipt in its entirety including store name and/or logo, checkout date and time, and total amount paid
Below is the viewfinder you will see when snapping your receipts: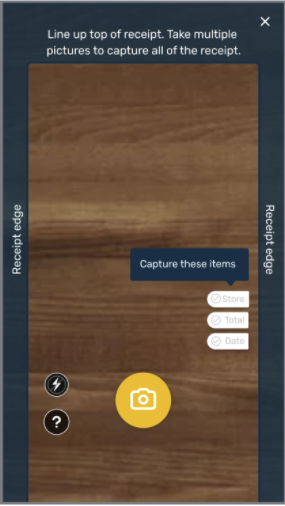 When the store name, total spent, and date are captured in the snap, the fields listed in the viewfinder will go from white to green, confirming the successful capture!
Additionally, snapping your receipts works best on a cellphone as opposed to a tablet.
Scanning eReceipts
For guidance on how to earn credit on your eReceipts, please refer to this article: How do I get credit for a receipt that was emailed to me? What about an image of a receipt on my device?